Acharya Sri Srinivasa Swamiji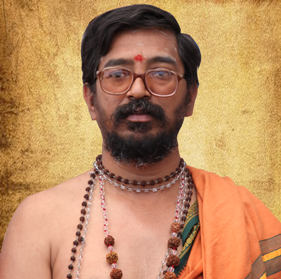 SPIRITUAL GURU & Teacher
Sri Srinivas Swamiji is a Hindu Saint, Spiritual seeker and a Teacher of Advaita Vedanta, Darshanas and Sanskrit. He is very actively pursuing spiritual life for past twenty five years as per the Advaitic tradition of Upanishads as expounded by Bhagavatpada Sri Shankaracharya.
He is also teaching Advaita Vedanta, Bhagavad geeta, Shankara bhashyas traditionally along with Sanskrit language, Panini sutras and Darshanas. Apart from teaching he is also guiding people in Spiritual, Religious, Social matters and also does Samaja seva- social service.etc.
In Rishikesh, he Studied Shashtras, Sanskrit language, Panini Vyakarana and Shankara bhasyas in Arsha vidya Gurukulam, (also known as Swami Dayananda Ashram on the banks of River Ganga, which is founded by world renowned Hindu Religious leader Parama Poojya Sri Swami Dayananda saraswati Mahaswamiji) from Acharya Sri Swami Sakshatkritanandaji. Here along with studies he was also actively teaching Sanskrit along with his Tapasya, Sadhana and Guruseva. By Bhagavan's blessings, he also learnt many scriptures from his Guruji Parama Poojya Sri Swami Dayananda saraswati Mahaswamiji both in Rishikesh and in Arsha vidya Gurukulam,coimbatore.
He has also studied in Kashi. In Kashi with the blessings of Bhagavan Vishwanatha and Mother Annapurana, he studied Shastras from great Scholars and also did sadhanas and teaching. Here he stayed in Sri Guru Karshni Vidya bhavan, founded by Acharya Mahamandaleshvar Parama Poojya Sri Swami Gurusharananada Maharaji for several years,hence also got the satsang (holy association) opportunity of Parama poojya maharajji and his blessings inspired him to do more tapasya and adhyayanam. He has also learned shastras from different scholars in many places of our country.
Apart from his shastra Adhyanam and teaching, he has also spent a lot of time in Tapasya and Sadhanas in different parts of our country, Himalayas, also on the banks of river Ganga, Narmada etc. At present, He is teaching shastra's for many seekers without any discrimination of caste, religion and sex etc. to create a healthy Global citizens in this era of Globalisation for the Universal Peace and Prosperity and also to Protect, Preserve and Propagate Santana Dharma Hinduism through shastra teaching, sadhana and service for a better world.